IRS 2290 Form - Overview
A 2290 Form must be filed if you operate a motor vehicle with a gross weight of 55,000 pounds or more. The 2290 Form also reports the amount of HVUT that you owe to the IRS. Once the IRS processes your return, it will send you the 2290 Schedule 1 which can be used as HVUT proof of payment to register your vehicle with any state DMVs or to renew your tags. The stamp is applied by the IRS with the date that actually indicates when the IRS processes your 2290 return.
Visit https://www.expresstrucktax.com/
efile/irs2290/ to learn more about Form 2290.
Information Required to File Form 2290 For 2022-2023
Tax Year
2290 Form requires information about your business and vehicle(s) including:
Business Details
Business Name and DBA
Address
Vehicle Details
First Used Month (FUM)
Vehicle Identification Number (VIN)
Taxable Gross Weight Category
Suspended Vehicle Information
Payment option
EFW (Enter Bank Account Details)
EFTPS (Schedule Payments)
Credit or Debit card (Select your card type
and Pay)
Check or Money Order (Mail 2290-V along with your Payment)
Visit https://www.expresstrucktax.com/
hvut/irs-2290-hvut-payment/ to learn more about IRS HVUT payments .
About our 2290 Form Online Filing Service
We are a leading e-file service provider of Form 2290 based out of Rock Hill, SC. We are offering a great product and superior service for filing 2290 online.
Our mission is to answer all of your queries quickly and effectively to guide you through the smooth Form 2290 filing process.
E-file Form 2290 with us and get your Stamped Schedule 1 or your money back.
Why Choose our 2290 Form Online
Filing Service?
Complete 2290 Form online filing
2290 Filing with the IRS
FREE 2290 VIN Corrections
Filing 2290 Amendments
Claiming Tax Credits using Form 8849
Access to Schedule 1
Receive Schedule 1 directly to your email
Opt to receive through fax or postal mail
We will send directly to your carrier
Options to send it to additionals email
for free
Swift and Error Free Filing
Inbuilt error check to ensure your returns are error-free
Review Form Summary and make corrections
before filing
Re-transmit rejected return for free
US Based Customer Support
Get the benefits of real support from
real people
We are providing support over phone, email, and chat
We offer bilingual support in both English and Spanish
How to File Form 2290 for 2022-2023 Tax Period?
Add your business information

Choose first used month

Add your vehicle information

Pay & Transmit to IRS
Download our Mobile and file 2290 Form on the Go!
As a trucker, you will be always moving somewhere. So, download the 2290 Form mobile app and file conveniently from your mobile device from any location. Receive your Form 2290 Schedule 1 via email within minutes!
Download the app now!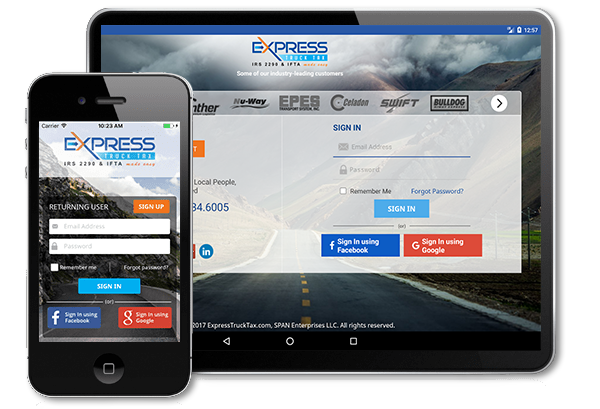 Ready to File Form 2290 for the 2022-2023 Tax Period?